Der Android Market wird endlich besser. Nachdem vor wenigen Tagen erste Screenshots einer neuen Market Version aufgetaucht waren, haben Android Entwickler jetzt die Möglichkeit Screenshots ihrer Apps hochzuladen. Interessant ist dabei auch folgende Notiz von Google:
Screenshots are visible only on the market.android.com website at this time and will not show on the device.
Das lässt die Spekulation zu, dass auch die Market Website ein komplettes App Verzeichnis haben könnte. Auf dem Device wird man erstmal nur kleinere Promo-Grafiken sehen können (280×120). Der Market ist für viele Entwickler und Anwender immer noch ein Frustfaktor, weshalb diese News umso erfreulicher ist. Ein erster wichtiger Schritt!
Hier ein Screenshot aus der Developer Console des Markets (Klicken für volle Größe):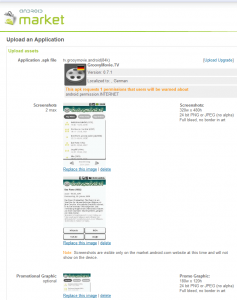 Ein paar weitere Infos über den Market in Android 1.6 gibt es auf dem Developer Blog, wie auch folgendes Video: